St. Lawrence College, Canada

With campuses in three small to mid-sized cities in eastern Ontario, SLC serves a wide and diverse catchment area. What sets the college apart is its ability to offer a world-class educational experience without the hassles of big-city living.
Our educational philosophy is to work harder to put our students' interests at the forefront of everything we do. That means, for one thing, delivering relevant, in-demand courses supported by superior faculty and staff, state-of-the-art facilities (including safe and comfortable residences), and a wide variety of support services. The college's overall approval rating for learning environment, quality of faculty, and excellence in graduate preparation is among the highest for community colleges in Ontario and testimony to our ability to consistently exceed expectations.
Campus Life at St Lawrence
St. Lawrence College is known for its vibrant campus life and a supportive, close-knit community environment. It has full range of student services designed to help you succeed: libraries; writing and math tutoring; peer tutoring; student success facilitators; varsity and recreational athletics programs; state-of-the-art fitness facilities; health centre; and counseling and disability services.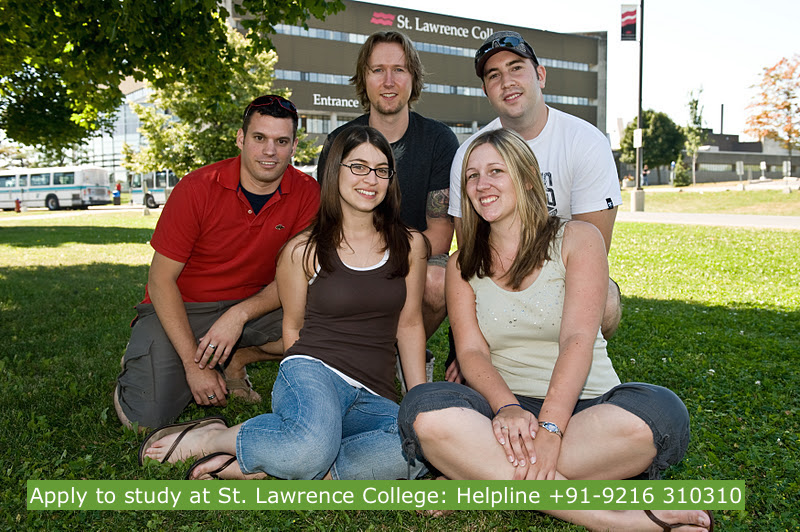 St Lawrence has three campuses at Brockville, Cornwall and Kingston. All campuses are situated in historic communities along the St. Lawrence River in eastern Ontario within easy traveling distance of two of Canada's largest cities, Toronto and Montreal. We are even closer to Ottawa, the nation's capital. All three SLC campuses offer:
Fully furnished suites (single or double rooms)

Suites suitable for disabled students

Common areas for group study and social activities

Access to college computer labs, library, dining services, and meal plans
In partnership with Alpha International Academy you can choose to take St. Lawrence College business programs and more at their Toronto campus.
Full-time studies at St. Lawrence College
If you're in high school or already graduated, a mature applicant (19 or older, with or without a high school diploma), or an international student and you are considering full-time studies at St. Lawrence College, you've come to the right place.
Looking for the career of your dreams? Want to open the doors to new opportunities? Then consider a post-secondary education. Making the choice to earn a post-secondary education today will have far reaching benefits that will last a lifetime.
With more than 80+ full-time programs and three friendly campuses, St. Lawrence College is a great place to bring your career plans to life. At SLC, you'll get the in-demand skills that set you apart in today's competitive world. You'll get the support and guidance of industry professionals with a wealth of experience in their fields. You'll get to really know your teachers. You'll get to experience great campus life.
Programs at St. Lawrence College
Diplomas and Degree level courses are available at St. Lawrence in various fields like
APPLIED ARTS

BUSINESS

COMMUNITY SERVICES

COMPUTER AND ENGINEERING TECHNOLOGY

GRAPHIC DESIGN

HEALTH AND SCIENCE

HOSPITALITY

JUSTICE STUDIES

SKILLED TRADES AND APPRENTICESHIPS
---