University of the Fraser Valley (India)

GET CANADIAN DEGREE IN INDIA
Everyone wants to be successful in life. Having an international degree can increase that prospect manifolds. However going abroad to achieve a degree is not everyone's cup of tea. But now there is a chance to get an international degree here in India itself. And this is possible since UNIVERSITY of the FRASER VALLEY has formed its satellite campus in India at GGD SD College, Chandigarh. A one of a kind of Canadian post-secondary institution on Indian soil that offers applied North American curriculum, taught by an electric mix of international & Indian faculty. For more information on UFV, get in touch with our admission team at CAAN World Consultants and start your journey today.
UFV has completed 10 years of quality education in India starting from 2006. And thus has developed many programs to benefit the students along with study. Some of them are as follows:
Student Company Program: This UFV program aspires to provide a platform to students to gain hands-on practical experience and facilitate understanding of each business function.
Co-Operative Education: It's a North American academic program where a student's academic study semesters are complemented with periods of paid work experience. The program provides entry-level employment opportunities, teaches basic employability skills and monitors employment conditions.
Co-Curricular Record: This helps to enhance student's resume, scholarship applications and one's academic and career portfolios. It also provides official recognition for student's extra-curricular activities, highlighting one's participation, skills and achievements.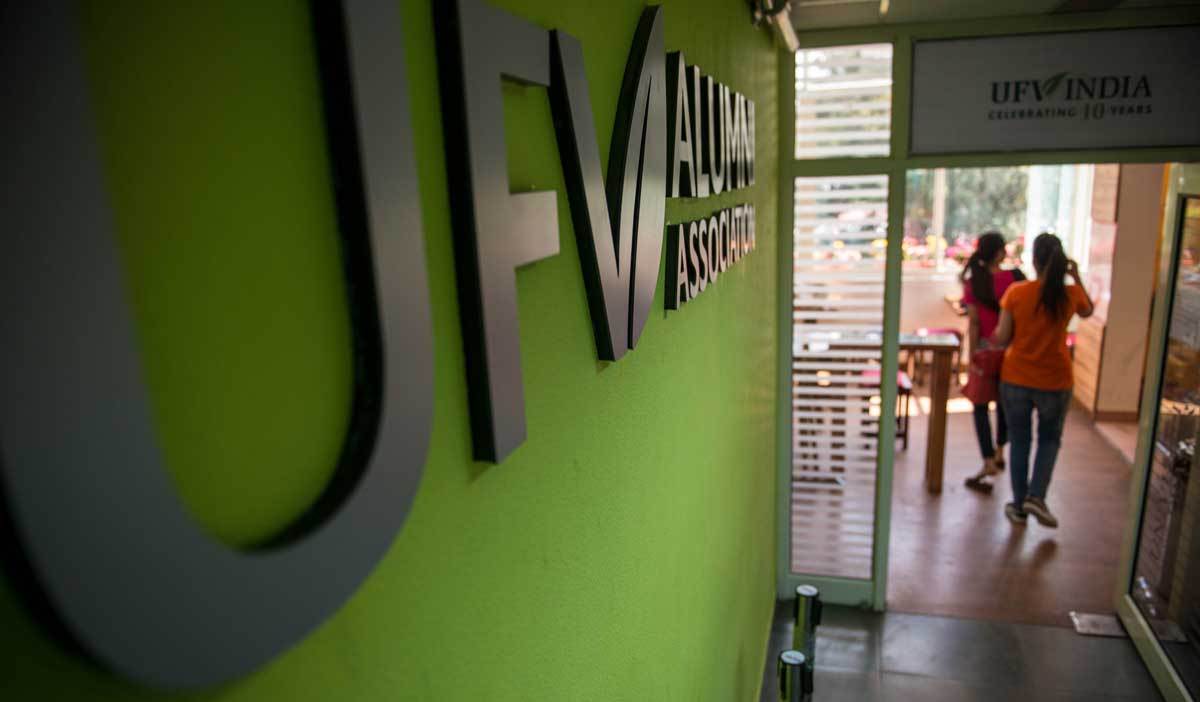 UFV provides many Degree, Master Degree and Certificate courses along with scholarships and financial grants every year to meritorious students. Courses offered by UFV are:
BBA and BCIS: These are the Degree programs and have duration of 4 years. This program provides students a chance to complete their study in both in India and Canada. Student can study 1 year in India and rest of the study in Canada or vice versa. Or they can complete 2 years in India and the rest in Canada. Students can either choose any of the above option.
MANAGEMENT POST-DEGREE CERTIFICATE (MPDC): This is a 1 year Certificate course making students eligible for graduate degree programs across North America. In this course, students may take 3 core subjects, 3 courses focused on International business and 2 applied Project/ Research courses.
Master of Management (MoM): It is a Master's degree of 16 months. It can be completed at UFV (India) or at University of Windsor. For students who want to opt for this course, must complete MPDC from UFV (India).
Admission & Requirements:
To apply for any of the degree program, students should get at least 60% to 65% in grade 12. And for the Certificate course, minimum requirement is at least 50% in undergraduate degree.
Students need to have an IELTS score of at least 6.5, with no band score less than 6.0 (for degree & certificate course) or a TOELFL score of at least 570. However for Master's, they should have at least a 7.0 IELTS score.
Contact CAAN WORLD CONSULTANTS at study@caanworld.net or call (+91) 181-4622307 or (+91) 9216310310
---