Australia Study Visa under New Rules*
The new Simplified Student Visa Framework (SSVF) has been introduced reducing the complexity of application and bringing applications online. It came into effect on 1 July 2016. The SSVF has been designed to make the process of applying for a student visa simpler for genuine students.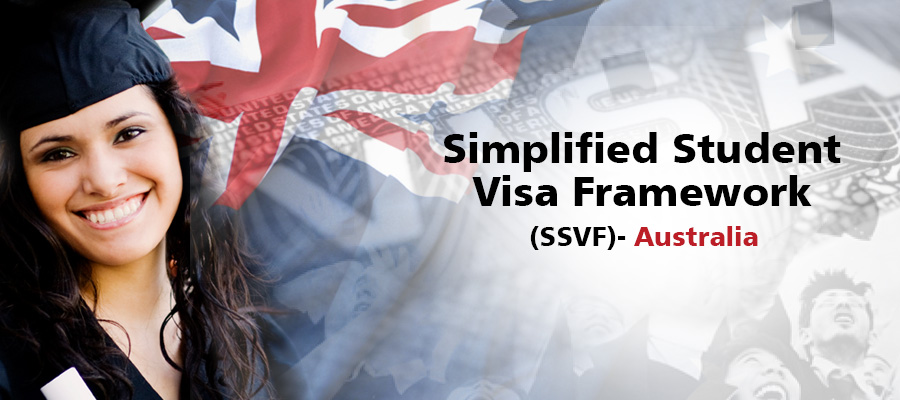 Under this system, all international students will now apply online for a single visa (subclass 500). Relatives of existing student visa holders (subclasses 570-576) will need to apply for the new subclass 500 visa if they don't have a student visa and want to come to Australia. Student Guardians can apply for a visa under subclass 590
Evidence of enrolment
Students who are outside Australia must be enrolled in a registered course of study and provide a Confirmation of Enrolment (CoE) when they lodge their student visa application. Students in Australia can apply with a letter of offer or a CoE but must have a CoE to be granted the visa.
Australian Study Visa Requirement:
If you are planning to study in Australia, you will need to obtain Australian study visa. Visa officer assessing your application will check your application from different aspects. Department of Immigration and Citizenship (DIAC) has set different requirements that student must fulfil. These requirements are as under
Core Requirements for Subclass 500 Visa
Enrollment in a CRICOS registered course offered in Australia
A student visa is only available to an individual who is enrolled in a CRICOS registered course in Australia. A Confirmation of Enrollment otherwise known as a CoE must be provided when applying for a student visa.
Genuine Temporary Entrant Requirement (GTE)
Even with the simplified visa application process, international students will still need to meet the GTE requirements. An assessment of how genuine an individual is will be carried out in a bid to prove that the individual in question only wishes to stay in Australia temporarily. Individual circumstances ranging from personal factors that may encourage an individual to return to their home country to immigration history are used when conducting this assessment.
A documentary evidence of proficiency in the English language may be required especially if a student does not come from a native English speaking country. If the client service tool available online indicates that a document to prove English language proficiency is required, you must attach the required document when submitting your online visa application or risk.
International students need to have sufficient funds to meet their living costs and also cover their course fees. While students are generally allowed to work for a specific number of hours they should not depend on this money when it comes to course fees and general living expenses.
The 12 months living costs will add up to AUD 19,830 for the student or guardian, AUD 6,940 for a spouse or partner and AUD 2,970 for a child.
A health examination is part of the Visa application process. Generally, this is conducted to establish your general body health and determine whether any specialized may be needed. In addition to this, you and all international students are required to have an Overseas Students Health Cover or OSHC in short before a student visa is awarded.
---